Good 'ol Catholic guilt.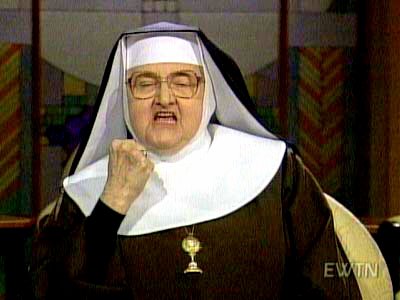 As many people know, I was raised Catholic. I was baptized Catholic, had the Sacrament of Reconciliation, my First Communion, and my Confirmation (my confirmation name, ironically to a few people who read this blog, was Andrew). The only two sacraments I haven't received are the really cool
De Exorcismus et supplicationibus quibusdam
and the kinda-scary but rather beautiful
Extreme Unction
. I was even an Altar Boy. Okay, before anyone starts snickering, Father Bacher, Father Nadeau, Father McNulty, and Father Cassesse never touched me or did anything remotely inappropriate. They were and are honorable men; molestation doesn't happen as often as you may think. The media has turned what was once an honor into utter bathroom humor so don't even joke about that...it pisses me off.
While I retain many of the core Catholic values instilled into me by my parents, years of CCD (when I was a Public School Kid), and finally, Catholic jr. high and high school, the one that is most apparent (aside from keeping most of the ten commandments except for the one about coveting my neighbor's wife...I'm sure she's lovely but she's not my thing) is the Catholic Guilt Complex.
You see, I felt bad after telling my mom not to click on that link of Cement Brunette's voicemail. The last thing I want is for her to feel like a double-A battery on Christmas morning...
Not Included
. Of course, as usual, an idea turned into a full-blown, ADD-fueled, time-consuming, headphone wearing, dozens of open windows on my computer, WAV and MP3-ripping, wildly complicated Chad Project.
Yes, I know...I'm a mess. I LIVE WITH MYSELF. I KNOW THIS.
So here's a post for my mom...so I stop feeling so guilty. It's complete with cars, radio jingles, and old photos. A Sunday morning Chad Fox Geek Fest.
First, a picture of her taken in 1968:
Now, at that time, she and my dad drove a sick-ass '68 Oldsmobile Cutlass, pale saffron in color, like this one (theirs didn't have the
"Parma"
spoiler because it would have clashed with the chic-mod-swanky black vinyl roof). Probably one of my favorite Detroit auto designs of the 20th Century:
In 1968, my mom's favorite radio station was WIXY-1260, a Cleveland top-40 powerhouse. She wasn't some early-twentysomething teenybopper or a dirty hippie by any means...she was one of those cool mod-chix who wore snug turtlenecks, big-buckled shoes from Chandler's, a Nehru jacket, smoking Kent cigarettes and digging the smoothbooty bossa-nova beats of Sergio Mendes & Brasil '66.
So I mixed this up for mom since I don't want her clicking on the link in the previous post. It's a bunch of noisy, disruptive WIXY jingles and promos I have in my collection dropped between 3 Sergio Mendes songs. It's a WIXY-1260 Brasil '66 Tripleplay...brought to you by ADD, being in my right brain for 2 hours and losing all track of time, and mild Catholic guilt.
So here ya go, Mamacita. Something fun to listen to
instead of CB's voicemail. Something you might have heard one day tooling around Cleveland in the Cutlass in 1968.
Oh, and because it totally slipped my mind this year, here's my folks celebrating Thanksgiving,
1971
1970, in their pre-Heights house in Euclid, Ohio (yes, it's a rerun but I love this photo):
Told you she had a Nehru jacket. :-)
[inside joke for Heather, Hillary, Siobhan, and anyone else who went to St. Louis School in the early 80's and had Sister Dorothy (bless her heart) for computer class...look at the nun photo, pretend you're sitting in front of an Apple IIe, and read this out loud (be sure to start in a normal tone of voice, then start shrieking halfway through it and throw a pencil across the room):
"Control, open AP-PLE, RESET!
]
|