isaac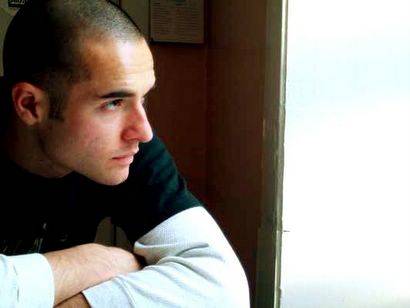 Let me introduce you to my friend Isaac. Not only is he one of the sexiest people I've ever met in my entire life, on June 5, 2005, he is embarking on the
AIDS LifeCycle
, a 7-day, 585-mile bike ride from San Francisco to Los Angeles. Here is their
mission statement
:
AIDS/LifeCycle is co-produced by the San Francisco AIDS Foundation and the L.A. Gay & Lesbian Center and is designed to advance their shared interests to end the pandemic and human suffering caused by AIDS.
The goals of AIDS/LifeCycle are to:
1. Raise funds to support the HIV/AIDS services of the L.A. Gay & Lesbian Center and the San Francisco AIDS Foundation;
2. Increase awareness and Knowledge about the services and programs offered by the benefiting organizations;
3. Increase awareness and knowledge about HIV/AIDS among participants, their donors and the general public;
4. Increase AIDS activism and volunteerism among the participant and donor communities causing them to become ambassadors in the fight against AIDS;
5. Provide a positive, life-affirming experience for people affected and infected by HIV that contributes to an increased understanding of the disproportionate impact HIV has had on the GLBT communities in SF and LA and supports an environment of dignity and improved quality of life for those affected by HIV and AIDS.
I was planning on doing this ride this year, but have decided it's not a good time for me to do so. Now, I was going to ask for donations for myself, but instead, I ask everyone who reads this, if you are able, please consider making a donation to Isaac. He is one of the most amazing people I have ever met...intelligent and beautiful, inside and out. He has a smoldering intensity I've never encountered before, and I feel fortunate to consider him a friend.
He writes:
From June 5-11, 2005, I'm bicycling in AIDS/LifeCycle. It's a 7-day, 585-mile bike ride from San Francisco to Los Angeles to make a world of difference in the lives of people living with HIV and AIDS.

My life has been touched by many friends with AIDS. This cause is very important to me. This is a new adventure in my life and your support would be very appreciated. So, please help me support the San Francisco AIDS Foundation.

Click the blue "Make a Donation" button and give what you can. We'll keep riding until AIDS and HIV are a thing of the past.

Thank you,

Isaac
Please visit
Isaac's AIDS/LifeCycle page
and please...if you're able...consider
making a donation
-- any amount, no matter how large or small -- towards his goal of $5000.
Thank you everyone...from the bottom of my heart.
|