i am so full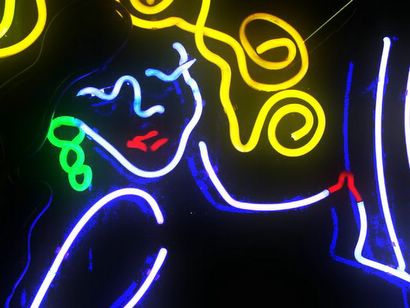 neon nipple a la northbeach, 2004 -- by chad
My god. I had no idea I could stuff that much food into me. For dinner tonight at Original Joe's, I started out with an enormous bowl of homemade minestrone soup, topped with a generous heaping of parmesan cheese and pepper, a half-loaf of fresh Italian bread with butter, and a huge plate of spaghetti with bolognese sauce and two gigantic meatballs, washed down with a grimy half-caraffe of house burgundy.
Now, keep in mind this was all served to me by a hunched-over, 75 year-old Italian guy with a thick accent, wearing a black tuxedo. On a brown, oval ceramic platter. At a fake-wood formica table in a brown naugahyde booth. With fake wood paneling and brass plates on the walls.
It. Was. Just. What. I. Needed.
At one point, I time-traveled. There was nothing in front of me that suggested it was 2005; there was a 1975 Buick Electra 225 parked out front, and a guy with mutton-chop sideburns and a plaid leisure suit, looking like a pimped-out Captain Kangaroo, was sitting in the booth in front of me. So, I decided...what the hell. It's not 2005. Oh, no. It's 1976. As I sat there eating my spaghetti, looking at Captain Pimparoo, in walks a woman who looked frighteningly, yet deliciously like Pam Grier in "Coffy" (1973).
Oh HELL yeah. Time traveling is fun.
And the Tenderloin is the best place to do it.
I couldn't eat it all, so when a homeless man came stumbling up to me and thrust a cup in my face on Ellis Street, asking for change, I instead handed him a bag filled with spaghetti, meatballs, bolognese sauce, and the other half of a loaf of Italian bread. He was ecstatic, and I was happy I didn't have to carry it around anymore.
I don't give spare change, but I
will
give food to a hungry man. I'm no better than he is, and if I have something I don't want that he needs...well, let's just say he's probably blissfully full right now. I should have bought him a small bottle of chianti to go with it.
|