dirty, dirty, dirty san francisco
One of the things I like about living in San Francisco is all the fun graffiti that's everywhere in the city. Some of it is obnoxious, some of it is beautiful, and some of it just makes me laugh. It's another reason why I seldom don't have my camera with me (when it's not broken).
For example, the above photo. I was riding on the metro when the doors opened, and I saw that. I actually stepped out of the train and took the next one just so I could get that photo. It was accompanied by this:
It was worth the wait, I think. John Travolta as a satanic El Fucko. I love it.
Then, there was this one in a Port-O-Shitter, I think it was on 18th Street or something...I had to pee, it was unlocked, and when I opened the door, I saw this:
Tee hee hee! I'm glad I had my camera that day.
Another one from the MUNI metro, I think this was at Church Street station: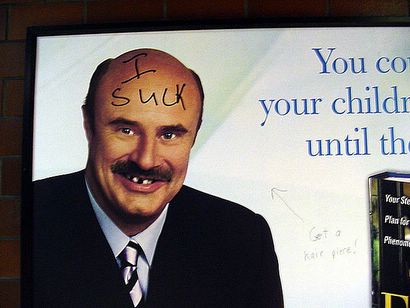 Poor Dr. Phil.
I can't remember where this one was, the Mission I think, but it struck terror into my heart:
If it was on a t-shirt, I'd totally wear it.
Next are some photos of some seats on the 19-Polk. Gotta love the 19...you never know what's going to happen on that particular line.
And of course, this being San Francisco someone had to make a political statement about Osama bin Laden's genitalia on the next seat:
I guess someone just likes drawing dicks on the 19's seats.
This one is at the top of Russian Hill:
I kinda like it.
It's a gorgeous day here...my friend Thomas just stopped by on his new Honda scooter and asked me to meet him later at the Beer Bust at the Eagle.
I think I'm gonna go. :-)
|